At the CRD we feature TWO jukeboxes. The newer one is a modern i-pod type unit which features many up-to-date popular songs as well as some classic oldies of rock, pop and country genres. We have over 1,200 tunes to choose from. We have always been a "jukebox bar." That is, one in which our main source of entertainment is drawn from music the customer selects. There are far less such places these days, but we keep that old tradition alive here in the Copper Valley.
BUT if you want to truly take a journey into the past, here we have a 1987-vintage Rowe model R-91 record-playing jukebox from the days when all that was available in the bars were record-playing jukeboxes. This one is a rarity. It will truly bring you back to the good old days when all the bars had these kind of jukeboxes--and THAT kind of sound! You know, the sound you no longer hear because music today SOUNDS so different. THIS machine has that FULL but SOFT sound that only vinyl can reproduce.
---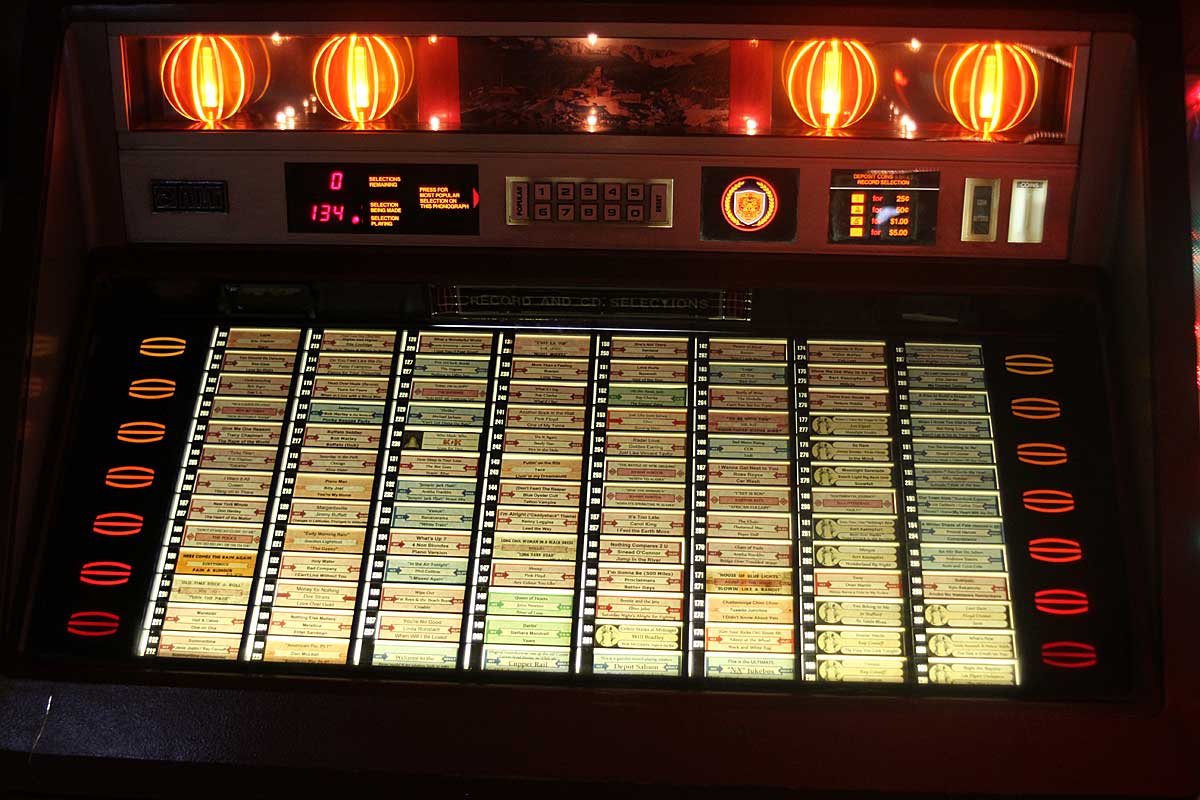 ---
Yes, those lights above and below the label tray move to the music--another remnant of the disco-era of the 1970s. This machine accepts quarters and one-dollar bills. AND it is priced the same as it was in 1987: One play per quarter, FIVE for the first dollar and TWELVE for TWO dollars. WHAT a deal !
---
The Jukebox has a developing Northern Exposure (NX) theme. Included on the playlist are several tunes from that 1990s television program including: David Schwartz: "Theme from Northern Exposure," and "Alaska Nights," Iris DeMent's "Our Town," and Etta James' "At Last." Click the image below for a look at the label tray for July 4, 2012:
---
Prominently featured on this vintage jukebox is the full-length version of Led Zeppelin's "Stairway to Heaven,* " which consists of over seven minutes of playing time. CRD Saloon owner Ron Simpson was a jukebox company owner, operating on Alaska's major interior highways from 1976 until 1996. In those days, many such independent operators requested that particular record be made available for 45 rpm jukeboxes. Regrettably, that most classic of rock anthems was not available for any price. Those very few copies which were cut by the studio were distributed out exclusively to AM Radio studios. In those days, many AM Radio stations only played 45 rpm records in their studios. In fact, the seven-inch 45 rpm vinyl record was the standard of the music industry for both jukeboxes and AM radio stations from the mid-1950s until the late 1980s.
Another rock standard featured on the R-91 that was rarely to be found on jukeboxes of the time because the 45 rpm version was unavailable in America was the Guns 'N Roses remake of Bob Dylan's " Knockin' on Heaven's Door. *** This version is featured in Ron Simpson's new introductory chapter to his historic novel "Legacy of the Chief" under the name "The Story Begins." In this new chapter, Rosalene, daughter of one of the principal characters of the novel "Legacy," returns to the Native Village of Tsedi-na (Chitina) in 2003 where she will celebrate her 80th birthday.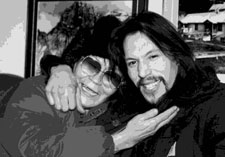 Although many of the rock and pop standards are frequently rotated, you might also find on this jukebox: Sinead O'Conner's "Nothing Compares to U," 4 Non Blondes' "What's Up," Tracy Chapman's "Give Me One Reason," Queen's "I Want It All," The Box Top's "The Letter," Michael Jackson's "Smooth Criminal," The Bee Gees' "Jive Talkin'," Whitesnake's "Here I Go Again," Dire Strait's "Money for Nothing," Johnny Cash's "Ghost Riders in the Sky," Bob Seger's "Turn the Page," Neil Diamond's "Solitary Man," Eric Clapton's "Unplugged" version of "Layla," Nazareth's double hit: "Love Hurts," and "Hair of the Dog," and Etta James' classic "At Last," among so many others.
Two recent arrivals of particular interest: Bad Company: "Holy Water," b/w "I Can't Live Without You" and Metallica: "Nothing Else Matters," b/w "Enter the Sandman." These 45 rpm records were not available in this format during the 1980s or 1990s except perhaps in Britain. I know that as a former jukebox operator they were not available to me !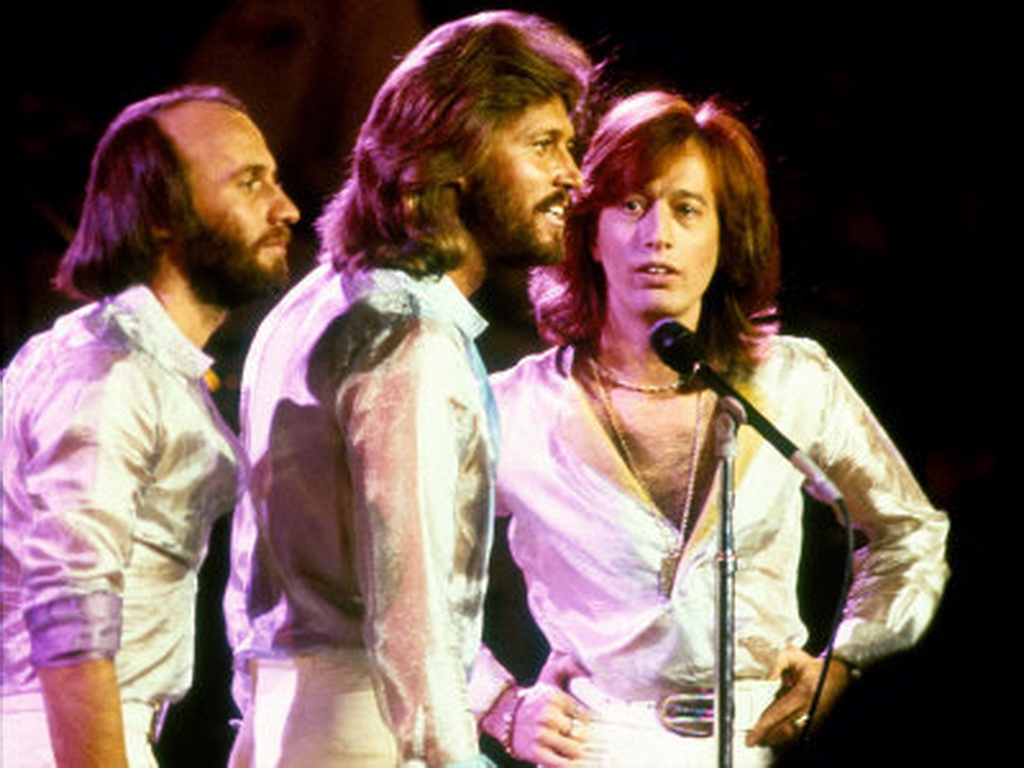 The Bee Gees are among the occasionally-featured artists on our retro-jukebox
The CRD model R-91 Rowe jukebox features many classic tunes--mostly rock and pop. All of them are clean-sounding, new to almost like new vinyl, mostly, but not exclusively, from the 1970s rock & disco era.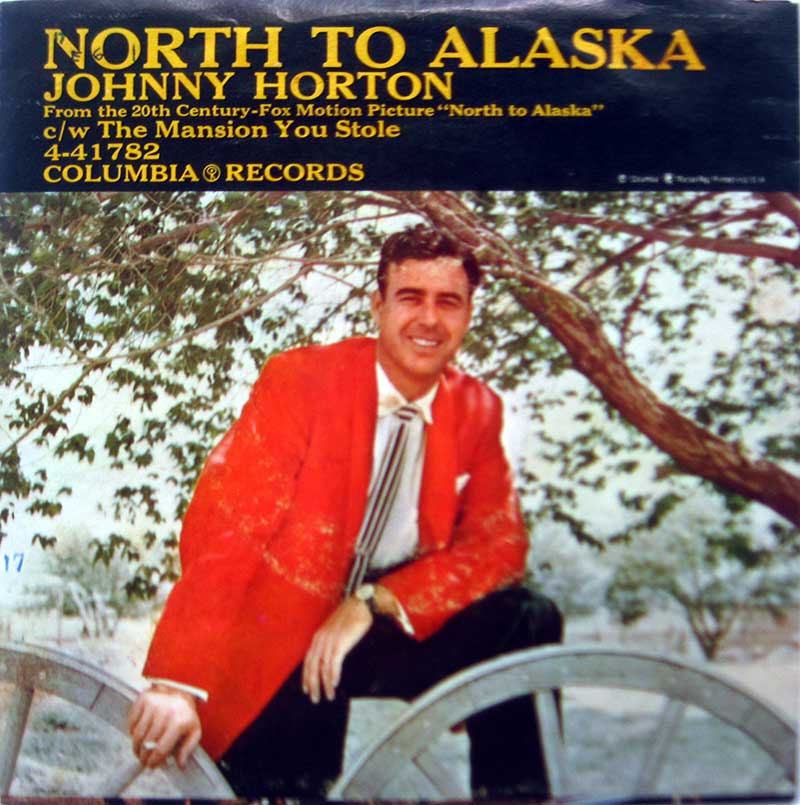 Our featured artist on the record-playing jukebox is Johnny Horton, with songs such as "North to Alaska," "When It's Springtime in Alaska," "Battle of New Orleans," and "Whispering Pines." The latter song is one I have been seeking for years. A very good copy of "Whispering Pines" now is in place. --RS
Additionally, there is a section of music on this jukebox that harkens back to the Big Band era of great dance and easy-listening, mostly instrumental music. One of these selections is "Celery Stalks at Midnight," performed by the big band sound of Will Bradley. I included this 1941 Big Band hit because it was a favorite of an older couple who once owned and operated the Paxson Lodge--one of my early jukebox locations--Stan and Wanda Brown. They are both passed on. I occasionally play this song in their memory--a couple who loved to dance in their own small bar to this tune.
This special group of easy-listening, mostly-instrumental and Big Band songs helps make this jukebox particularly unique, thus lending itself to what I refer to as my "Martini Bar" jukebox. The record-playing jukebox is typically only played during the late afternoon and early evening hours at the CRD.
Come in early and have a Retro kind of day !
Are you seeking something more contemporary in music ?
Then come on in and try out
Our All-Purpose I-Pod-Type (converted) **Wall Box Jukebox:
Includes the Recent Rock, Pop and Country Hits, PLUS the Classics: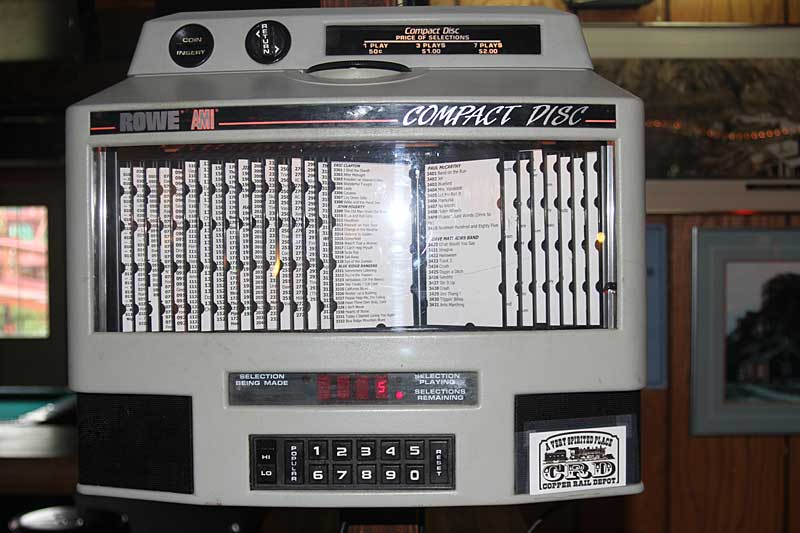 By the summer of 2015, we will have an internet-based music system: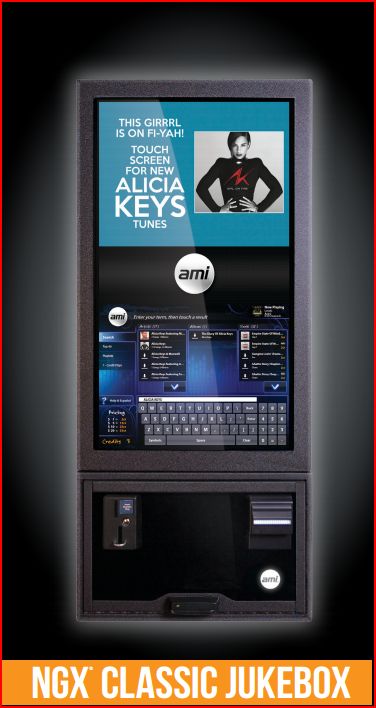 This will be the ultimate music upgrade for the Pub @ the Copper Rail Depot.
It will make possible access to video music for the first time in a bar in this region.
---
* "Stairway to Heaven" is often rated among the greatest rock songs of all time. According to music journalist Stephen Davis, although the song was released in 1971, it took until 1973 before the song's popularity ascended to truly "authentic" status. As Page himself recalled, "I knew it was good, but I didn't know it was going to be almost like an anthem ... But I knew it was the gem of the album, sure."

"Stairway to Heaven" continues to top radio lists of the greatest rock songs, as well as topping a 2006 Guitar World readers poll of greatest guitar solos. On the 20th anniversary of the original release of the song, it was announced via U.S. radio sources that the song had logged up an estimated 2,874,000 radio plays - back to back, that would run for 44 years solid. As of 2000, the song had been broadcast on radio over three million times. In 1990 a St Petersburg, Florida station kicked off its all-Led Zeppelin format by playing "Stairway to Heaven" for 24 hours straight. It is also the biggest-selling single piece of sheet music in rock history, clocking up an average of 15,000 copies yearly. In total, over one million copies have been sold.

The song's length precluded its release in full form as a single. Despite pressure from Atlantic Records the band would not authorize the editing of the song for single release, making "Stairway to Heaven" one of the most well-known and popular rock songs never to have been released as a single.

It's doubtful that anyone knew it would become the most popular rock song of all time. After all, it's eight minutes long and was never released as a single. Even "Hey Jude" was shorter, was a 45, and enjoyed the benefits of comprehensible words and a sing-along chorus. But "Hey Jude" isn't the most requested song of all time on FM rock stations. Nobody ever had a "Hey Jude" theme prom or played the song at weddings and funerals like "Stairway." "Stairway" couldn't succeed today. Back in 1971, FM deejays prided themselves on digging deep into albums to come up with oddball, cultish favorites. With its near-oppressive length, erratic changes, and woo-woo lyrics, the quasi-medieval anthem was a perfect choice. It continues to be a favorite among music listeners who are younger than the song itself, listeners who, in some cases, were no doubt conceived while the tune blasted from car speakers. (taken from Wikipedia)
The 45 rpm single " Stairway to Heaven" IS prominently and permanently featured on THIS ONE-OF-A-KIND JUKEBOX as selection # 100 ! --owner